"Cory Gardner has been AWOL, he's been absent without leave in terms of really helping minority-owned businesses"
Yesterday, John Hickenlooper visited several minority-owned small businesses in Aurora and heard about the impacts of COVID and the Senate's inaction. The Senate just returned from a month-long recess without any real plan to get relief to the millions of Americans who are struggling to pay the bills, put food on the table, and make their rent and mortgages.
Business owners told Hickenlooper "they got nothing from the past relief package" as Senator Cory Gardner offered only empty words. Hickenlooper called out Gardner for leaving minority-owned small businesses behind.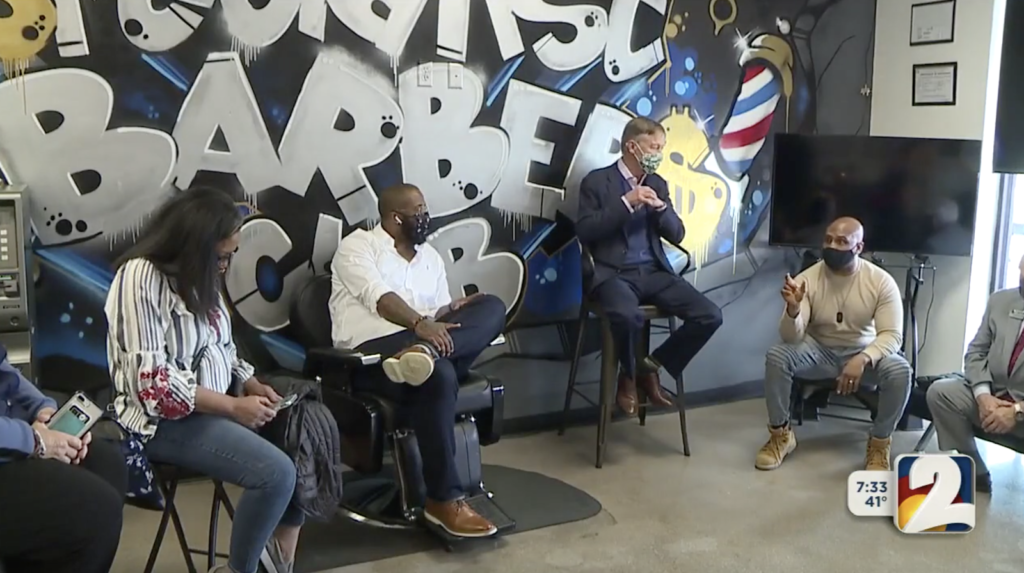 Fox 31 Denver reported:
Former Gov. John Hickenlooper was in Aurora Wednesday touring minority-owned businesses. Sen. Cory Gardner was in Washington, going over the latest proposal for the next round of COVID-19 relief.
Hickenlooper stopped by four minority-owned businesses in Aurora to see how they were faring during the pandemic.
"They get such a smaller amount of support from the federal government. Why is it that they seem to end up in the back of the line so by the time their application came to the top, the money was gone?" Hickenlooper said.
Gardner said he has been working to ensure COVID-19 relief funding is accessible for everyone.
…
Some business owners say they got nothing from the past relief package.
"I don't know any other small business owners that haven't gotten any funding after applying. I myself haven't received any funding," said Shaunte Baker of Specialists Barber's Club Barbershop.
The former governor said reports of the lack of funding for minority-owned businesses was the reason he paid a visit in the middle of the pandemic.
"Cory Gardner has been AWOL, he's been absent without leave in terms of really helping minority-owned businesses and certainly with a lot of the divisive language that's come out of the White House, Sen. Gardner hasn't said a word," he said.

Read more from Fox 31 Denver.
The Sentinel Colorado wrote:
Business owners are eager to chat with candidates. They're even more eager to return to business as usual.
"I haven't myself received any funding," said shop owner Shaunte Baker, as Hickenlooper was asked what he'd do to help Black-owned businesses that are hubs for their communities.
Hickenlooper said federal aid money seemed to be "slanted toward big business, large corporations and against small businesses."
…
Lee, who walked Hickenlooper through a few aisles of the store and replaced his off-kilter cloth face mask with a fancy-looking disposable mask, said for him this election year the economy is at the top of his priority list, especially as COVID-19 has thrown so much uncertainty at businesses.
"This is to me, you know, is the American dream. You see it right in front of us," said Hickelooper pointing to the store's big bright sign.
Hickenlooper, who before being elected governor and mayor of Denver, was a brewpub owner and says he knows the struggle of growing a small business. A lot of his friends that have been in the restaurant business for decades say they might never recover because of the pandemic, he said.
"That's the hardest of hard times when you see your friends, and you know Washington just didn't respond. The negligence. The White House and President Trump said, 'This is nothing we don't worry about it,'" he said. "There's a story that came out today, I heard that he (Trump) actually did think it was something but he thought it was important to pretend it wasn't something to worry about. And then when they did address it, they were incompetent."
Hickenlooper finished his zig-zag tour of Havana's business improvement district across the street at the Heirloom Antique Mall and lunch at the Nile Ethiopian Restaurant.
Read more in the Sentinel Colorado.